Dental Crown Procedure Options in Boise Idaho
Dental crowns work well for teeth considerably broken down from either old failing restorations, decay, or broken off tooth structures. They cover the remaining tooth and restore the shape and function. They fit snugly over your existing tooth, giving you a natural appearance to your beautiful smile.
Interested in learning more about dental crowns? Call at (208) 377-0410 to Schedule Your Appointment. Our team of family dentists in Boise, ID are happy to help.
What to Expect When Getting a Dental Crown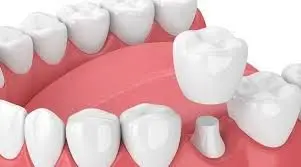 Dental crown placement normally takes two appointments to complete.
When restoring your tooth with a crown, the existing tooth is cleaned and reshaped. An impression is then taken followed by a temporary crown. The temporary crown will work and look reasonably well while the real crown is made in the dental laboratory. At your next appointment the real crown will be bonded permanently onto your existing tooth.
The main objective of a dental crown is to protect your natural tooth from further damage while also giving your smile a beautiful appearance. Our doctors at Lowry Dental take great care to match the prosthetic dental crown to the rest of the teeth and ensure a snug comfortable fit.
Different Types of Dental Crowns
All gold crowns work very well in restoring back teeth where esthetics is not a concern. They function very well and are about the same hardness as natural teeth. For people who grind their teeth, these work better than porcelain. The biggest disadvantage of all gold crowns it that they look "gold".
Porcelain fused to gold crowns allows for a more esthetic restoration that is also very strong. They can be made to match the other teeth reasonably well.
All ceramic crowns can be very esthetic and the newer materials are quite strong. They are best suited for teeth in the esthetic zones of a person's mouth. They can, if needed, be used in higher stress areas like back teeth. They are not as strong as porcelain fused to gold or all gold crowns.
Dental Crown Replacements
Sometimes, patients at Lowry Dental have existing dental crowns that need to be replaced. In these situations, our doctors will remove the old dental crown, sanitize and clean the natural tooth, and then place a new crown on top.
Improved Smiles With Dental Crowns
Patients with damaged teeth may be prime candidates for dental crown placement. This treatment may also be good for individuals who are embarrassed by discoloration, cracks, chips, or other cosmetic flaws.
Contact our team at Lowry Dental and schedule a consultation with our experienced cosmetic dentists in Boise, Idaho.