Tooth Fillings / Restoration Options in Boise, ID
Many years ago, teeth that were damage by decay were restored using silver amalgam fillings. With proper care, amalgam fillings can last many years and in some cases are still a good solution for large areas of decay. However, many people prefer the more natural-looking option with white composite fillings.
Interested in learning more about tooth-colored white composite filings? Call at (208) 377-0410 to Schedule Your Appointment. Our team of family dentists in Boise, ID are happy to help.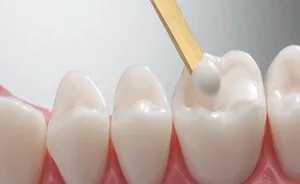 Restore Tooth Decay Using Composite Fillings
Tooth decay can still happen to people who have regular dental appointments and good at-home oral hygiene.
After completely removing all the tooth decay, the tooth is thoroughly sanitized and filled with with a composite resin material. The white composite resin can be tailor-matched to blend with your teeth providing a result that is natural-looking with improved oral health.
Natural Looking Porcelain Inlays and Onlays
Porcelain inlays and onlays are used when a tooth needs restoration beyond the capability of a composite or analgam filling. The inlays and onlays are used specifically when the tooth decay area is too large for fillings but not ready for a tooth crown.
Often these teeth can be restored with a more conservative restoration than a crown by utilizing an onlay. As their name suggests both inlays and onlays "lay" over the chewing surface of the teeth.
They are made in the lab after taking an impression of the prepared tooth. The completed inlay or onlay is then bonded to the remaining tooth with special cement.
Each of our doctors at Lowry Dental have extensive experience in Cosmetic Dentistry in Boise, Idaho.
Tooth colored filling with fluoride
For people with high rates of decay there are filling materials made that contain fluoride. Fluoride ions are released, which make the teeth more resistant to decay.
These are especially helpful for young children who get decay and adults who are more cavity prone or suffer from a dry mouth. Many of today's prescription drugs cause decreased saliva flow, which greatly increases decay, especially on the roots of teeth.
Discussing tooth fillings and restorations is easy, just make an appointment and contact our office by calling (208) 377-0410